Access to education is a matter of course in many countries. However, in remote regions that lack bare essentials like schools, doctors and shopping facilities — much less cinemas — it can seem distant and unattainable. In spite of that, the rural communities in these regions can enable informal gatherings for people who often live far away from each other, creating valuable opportunities for conversation.
It is precisely this combination that filmmaker and media advocacy strategist Sydelle Willow Smith and her team are working with in rural southern Africa with a powerful new initiative: Sunshine Cinema, Africa's first solar-powered cinema network that promotes African film in particular.
Smith lives in Cape Town, studied social sciences at Oxford, and has always been committed to more citizen participation and audience engagement in the field of social media. All her skills, sociopolitical interests, and enthusiasm for media and especially cinema come together to make Sunshine Cinema a strong voice for African film and more social participation.
The project is opening viewers' eyes to issues such as gender equality, work and education, peace and justice, as well as environmental and climate protection. The network also offers African youth who are affected by unemployment the opportunity to participate in the Sunbox Ambassador Program. Young people learn how to handle and operate mobile cinema units so that they can set up film screenings in the open air or in empty buildings, foster audience discussions, and inspire active civic participation and social change.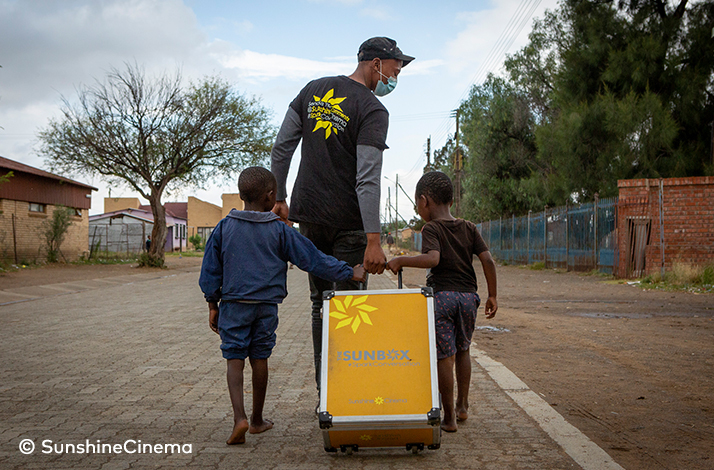 The Sunbox Ambassadors are on the road in South Africa, Zimbabwe, Zambia, and Malawi, and have already shown over 50 (mostly African) films and reached more than 100,000 viewers. But that's not all: after the screenings, the teams moderate discussions on social issues. They actively network on social media to draw attention to future cinema nights and events, including sharing the Sunshine Cinema Podcast with their communities through WhatsApp. Besides video screenings, they also lead other outreach efforts, such as using virtual reality to provide sexual education and help combat the spread of HIV.
Smith and Sunshine Cinema recently received an extra boost of support from the Mastercard Enablement Programme as part of the Berlin International Film Festival's Berlinale Talents.
That financial help for Sunshine Cinema "was actually very individually related to our project," Smith explains. "It went from a one-time payment for necessary investments to the possibility of getting a loan to business coaching by great specialists that we wouldn't have been able to afford otherwise. Mastercard really went the extra mile with us to help us achieve our goals. I'm very grateful for that."
The Mastercard Enablement Programme will also be part of Berlinale Talents in 2022. Stay tuned to see which priceless opportunities for education and social participation will be featured next time.